I was born in Lviv, Ukraine (Former USSR) and began studying the piano accordion at the local music school at the early age of seven, as well as taking additional private classes with well-known teachers in the area. My first performance as a soloist took place at the age of nine on the Lviv City Radio. At the age of 12, I became a member of the City Accordion Ensemble, performing regularly around the city and region. At the age of 15, I took First Place at the City Accordion Competition.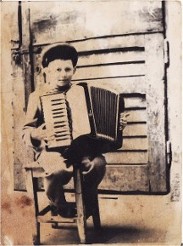 After music school, I continued my musical studies at the Lviv Musical College and after graduating at the age of 19, I joined professional musicians, folk singers and dancers in the Army Orchestra, entertaining troops around the country (USSR), as well as other Eastern European countries. After my army duty, I continued my professional career at the City Union Orchestra in the Lviv Philharmonic Organization, performing as a soloist and with other bands, working with singers and dancing groups and teaching accordion.
In 1989, I left Ukraine for the United States. Before getting here, I had a stopover in Rome (Italy), where I performed with the famous Italian singer/guitar player Nino Meloni and his musicians and gained extensive knowledge of Italian music. In 1990 I came to the United States, where I continue to expand my musical career. I appeared on the "New Americans in Concert", sponsored by Jewish Philanthropies of Greater Boston. In 1991 I became a member of Kalinka Trio (accordion, singer-soprano and balalaika player), arranged by Mary Wolman Management.
We had numerous performances throughout New England and New York areas, including an appearance on national TV on the International Channel with a program including Russian, Yiddish, Israeli and Broadway tunes.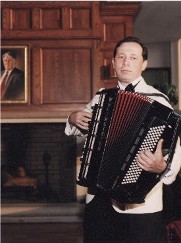 In 1994 I performed in the French Cabaret show, which featured Parisian singer Annie Royer and her band, who entertained the audiences in the Ryles Jazz Club and other venues around Boston. I have also formed a Klezmer band, Redl, and have been invited to perform after the restoration and the re-opening of The Vilna Shul - Boston's Center for Jewish Culture and other various events.
At the present time, I own and operate Entertaining with Accordion, serving Boston and all of New England, providing live accordion music for all special occasions, such as Wedding Cocktail Hour and Reception, Birthday parties and other special events and celebrations. One of my very popular performances are Oktoberfest events, where I wear Lederhosen costume and perform traditional folk German music. With my digital Roland accordion, the Oompah music made up of polkas, marches and waltzes sounds like a real German band.
Most recent performances include:
Corporate Function at Boston Hynes Convention Center

Fundraiser at
Mr. Sid, Inc. (Newton, MA)

Gala Fundraising event for "Italian Home for Children" at the Fairmont Copley Plaza Hotel (Boston, MA)

Fundraiser at Milton Art Center

Corporate Function at Westin Copley Plaza Hotel
Pre-show Opening Night gala performance featuring French accordion music prior to the showing of "An American in Paris" at the Wang Theater (Boston, MA)

Gala Fundraising reception at Johnson & Wales University




Oktoberfest event at Wellesley Country Club

Wedding cocktail hour and reception at The Red Inn Hotel (Provincetown, MA)

Corporate Christmas Party at the Woodland Golf Club (Newton, MA)

Multiple events (Corporate function, Wedding and a Birthday party) at Mama Maria Restaurant in the famous North End neighborhood of Boston
For more information about live entertainment for your event, please visit my Live Entertainment page.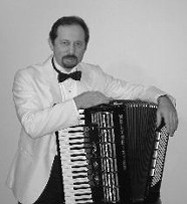 I also provide an on-site musical and educational one-hour concert/lecture "Traveling with Accordion around the World" to residents of Senior Centers, Rehabilitation Centers, Nursing Homes, Assisted Living Facilities and Adult Health Centers, working in close relationships with Programs Directors, Resident Service Coordinators and Activity Directors. These musical lectures are entertaining and engaging, where the audience takes a musical trip around the world with a live accordion performance, while enjoying slides and videos about the history of the country, historical places in the cities, people who live there, their traditions and the origins of the music I play.
These packages are also great for any event and celebration.
For more information about the concerts/lectures, please visit my
Concerts/Lectures page.